ACTIVITIES AND ATTRACTIONS
Strand Hotel Fevik has a short distance to a variety of activities and attractions. The range is diverse and varied and will cater for both young children on holiday and adult couples who want cultural refills during a weekend stay.
Klassisk høstweekend på Strand Hotel Fevik!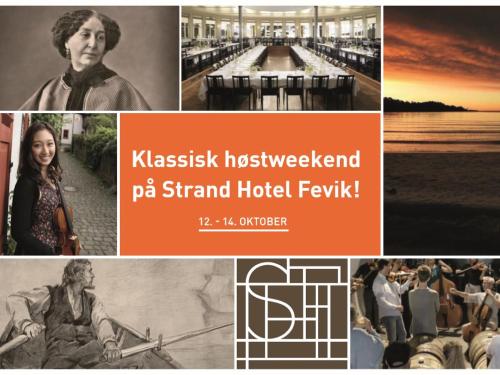 Klassisk høstweekend på Strand Hotel Fevik!
Kunne du tenke deg en helg der alle sanser stimuleres, i et miljø som fyller sjelen med ro og ettertanke. Da har vi nå et enestående tilbud:
I samarbeid med «Klassisk i Sentrum» er hotellet vertskap for noen verdensledende musikere.
Vi inviterer til en helg fylt med god musikk, god mat og godt drikke.
Alle musikerne bor på hotellet, noe som gir de besøkende en anledning til å kunne oppleve dem og deres arbeid helt på nært hold.
Hotellets spa byr på gode opplevelser.
12.-14. OKTOBER
I samarbeid med «Klassisk i Sentrum» har vi laget en pakke der alle konserter, opphold i dobbelterom fra fredag til søndag og viltmiddag m/drikkepakke lørdag kveld er inkludert. Kr. 2990 per person.
PROGRAM
«

Bach og Bacchus på Nøgne Ø» Torsdag 11. oktober, 20.00 Nøgne Ø Bryggeri


«

Møt Musikerne» Fredag 12. oktober, 18.00 Roald Dahl Bar, Strand Hotel Fevik


«

Høst på Scenen» Fredag 12. oktober, 21.00 Grimstad kulturhus


«

Høst i Grimstad kirke» Lørdag 13. oktober, 13.00 Grimstad Kirke

«Helt vilt» Lørdag 13. oktober, 19.00 Strand Hotel Fevik
*inklusive tre retter og vinmeny

«Terje Vigen» Søndag 14. klokken 14.00 Strand Hotel Fevik


Hotellovernatting og bordbestilling kan gjøres via oss på booking@strandhotelfevik.no eller 37 25 00 00.
SUNDAY BUFFET
Bring both big and small to sunday dinner at Strand Hotel Fevik. Every Sunday we offer a temptation buffet with a delicious dessert table
We also have playrooms for the youngest.
From 13:00 to 17:00.
Please contact us
here
to reserve a table or call us by phone
37 25 00 00!
Dyreparken in Kristiansand
The zoo is the country's largest family attraction with a complete experience for the whole family. The park is open daily throughout the year. In the main season of the summer, the evening performances with Captain Sabeltann are the main attraction, as well as Cardamom Town and 140 different species of animals.
www.dyreparken.no
Cotton factory Art Hall
Cotton factory Kunsthall is located in scenic surroundings at Langsævannet in Arendal and is a meeting place where the audience can experience the best and most current events in contemporary art.
www.bomuldsfabriken.no


Vitensenteret, Arendal
Lots of fun activities / shows both on weekdays and on weekends, especially for children 6years +.
www.vitensor.no


Hesnes Gartneri and Kitchen, Grimstad
Here you can shop for local fresh produce and flowers. Cozy cafe and gift shop.
www.hesnesgartneri.no


Nude Ø microbrewery
The micro brewery is the island's "uncompromising brewery". Fragrant, flavorful ales have become a major export product from little Grimstad. Guided tour with surprising flavor menu.
www.nogne-o.com


Ibsen Museum in Grimstad
The Ibsen Museum in Grimstad is the country's oldest Ibsen museum, opened as early as 1916. The museum is located in the building where Henrik Ibsen worked as a pharmacist's assistant and where he wrote his very first act Catilina. It was here that since becoming one of the world's most famous authors began.
www.gbm.no/ibsenmuseet


Agder Theater
The theater in the quarry! The ancient dawn of the characteristic Red Feather Trinity has been the scene for both Ibsen's drama and modern rock music since 1993. Standing stands with about 1000 seats were completed in 1999.
www.kilden.com/fjereheia


Grimstad Golf Club
On Hodnebrog 2 km from the exit on rv420 to Hesnes. Approved by the Norwegian Golf Association. The course has 9 holes with a total length of 1820 m, which is 2/3 of a full 9-hole course. Driving range 25 da. with rack and ball machine.
www.grigk.no


Grimstad Maritime Museum
One of three wood-preserved shipyards in Norway. Located in "The Old Office"; the administration building of the old sailing ship yard in Hasseldalen, established. 1841. Gives us a glimpse of the glory of Norway's sailing ships.
www.gbm.no/sjofartsmuseet


Norsk Hagebruksmuseum
Here are collected old objects from farm and horticulture, among other things. an old seed shop and its own wine museum from Fuhr's Wine Cellar. Also shows the Hamsun exhibition as a farmer. In the park and forest edge of Dømmesmoen you can find: arboretum trail, 43 burial mounds, Ibsen's herb garden and warm-berry plants like wisteria and bamboo. Birger Beisland collections, which are part of the museum's collections, can be visited at Berge Gård by appointment.
www.gbm.no/norsk-hagebruksmuseum


For more information:

Arendal
www.arendal.com


Visit Sørlandet
www.visitsorlandet.com


Grimstad Tourist Office
www.visitgrimstad.com


Southern Summer nights
www.sorlandskesommernetter.no