ACTIVITIES AND ATTRACTIONS
Strand Hotel Fevik is conveniently located close to a variety of activities and attractions. The selection is varied and varied and will suit both families with young children on holiday and adult couples who want cultural refreshment during a weekend stay.
Sunday Buffet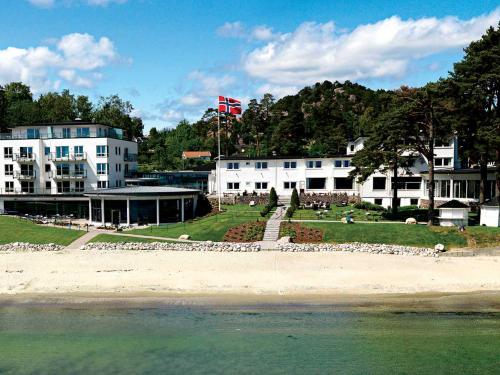 We offer our tasty Sunday buffet every Sunday between 13:00 and 17:00
Welcome!
Contact us
here
to reserve a table or call us on phone 37 25 00 00!
Kristiansand Zoo
The zoo is the country's largest family attraction with a complete adventure offering for the whole family. The park is open every day of the year and offers various activities throughout the year.
Bomuldsfabriken Kunsthall is located in scenic surroundings by the Langsævannet in Arendal and is a meeting place where the public can experience the best and most relevant that happens in contemporary art.
At the KUBEN in Arendal you can experience Aust-Agder's rich history through exciting exhibitions.
Join in fun activities and find out a lot of excitement at the center. Fun for the whole family!
Lots of fun activities / shows both on weekdays and weekends, especially for kids 6yrs +.
Here you can shop local, fresh produce and flowers. Cozy cafe and gift shop.
The microbrewery naked island "the uncompromising brewery". Fragrant, flavorful ales have become a major export product from little Grimstad. Tour with surprising tasting menu.
The Ibsen Museum in Grimstad is the country's oldest Ibsen museum, opened as early as 1916. The museum is located in the building where Henrik Ibsen worked as a pharmacist, and where he wrote his very first play Catilina. This is where it was to become one of the world's most famous authors.
The quarry theater! The old daybreak of the characteristic red feather granite has since 1993 been the scene for both Ibsen's drama and modern rock musicals. Permanent grandstand facility with approximately 1000 seats was completed in 1999.
At Hodnebrog 2 km from the exit on the rv420 to Hesnes. Approved by the Norwegian Golf Association. The course has 9 holes with a total length of 1820 m, which is 2/3 of a full 9 hole course. Driving range 25 da. with tee mat and ball machine.
One of a total of three preserved sailing shipyards in Norway. Located in "The Old Office"; the administration building of the old sailing shipyard in Hasseldalen, established. 1841. Gives us a look back at the greatness of sailing ships in Norway.
Here you will find old objects from farms and horticulture, among others. an old seed shop and a separate wine museum from Fuhr's Wine Cellar. Also shows the exhibition Hamsun as a farmer. In the park and the forest edge at Dømmesmoen are found, among other things. arboretum path, 43 burial mounds, Ibsen's Herb garden and warm-loving plants such as wisteria and bamboo. Birger Beisland's collections, which are part of the museum's collections, can be visited at Berge Gård by arrangement.
Arranges for everyone to experience the sea and the archipelago - all year round. They offer unique experiences and exciting activities along with small boat rentals, superboards and kayaks. Everything from two-hour sup-courses to total packages with activities on the sea, accommodation in the shoreline and good food experiences. Customized experiences and stays according to guests' wishes and needs.