RESTAURANT
At Strand Hotel Fevik, food should be an experience. The sum of our values is expressed in what is put on the table. We want to offer our guests something that will enhance the experience of every visit, which is why we have developed a food philosophy with history and local ingredients as important ingredients.
An unforgettable taste experience rarely contains any greater secret than good ingredients, they are the most important thing a restaurant has. We prepare the food in a way that retains the uniqueness of the ingredients, highlighting the individual tastes and consistencies of the ingredients without being covered. Our menus follow the seasons. The raw materials are utilized in season, when they have the best taste and quality, and are handled and prepared in a way that takes care of valuable nutrients, vitamins and minerals.
The surroundings also make a meal something special. Restaurant Neptun is designed as a classic ballroom. With a roof just as beautiful as a southern starry sky and winter garden, Neptune promises the experience of a celebration or a simple meal. Here you can enjoy the food close to the sea, with a view that is just as magical all year round.
OPENING HOURS

Our restaurant is open every day of the year, except during the Christmas week, and everyone is warmly welcomed!
Monday to Thursday
From 12.00 - 21.00
Friday and Saturday
From 12.00 - 22.00
Sunday Buffet
From 13.00 - 17.00
MENU
Strand Hotel Fevik offers the chef's tasteful recommendation adapted to the season, Monday to Saturday.
Lunch is served from 12:00 to 18:00
Dinner is served from 18:00
Contact Us
Sunday Buffet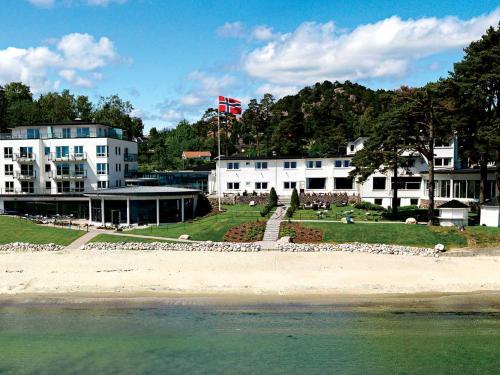 Welcome to our tasty Sunday buffet every Sunday from 13:00 - 17:00
The buffet includes hot meats and fish dishes and a delicious dessert table as well as tea and coffee.
Remember to book a table on tel. 37 25 00 00 or booking@strandhotelfevik.no
#spissorlandet #hesnesgartneri #tjamslandysteri #bekkereinan